Brake Service
at BMW of Montgomery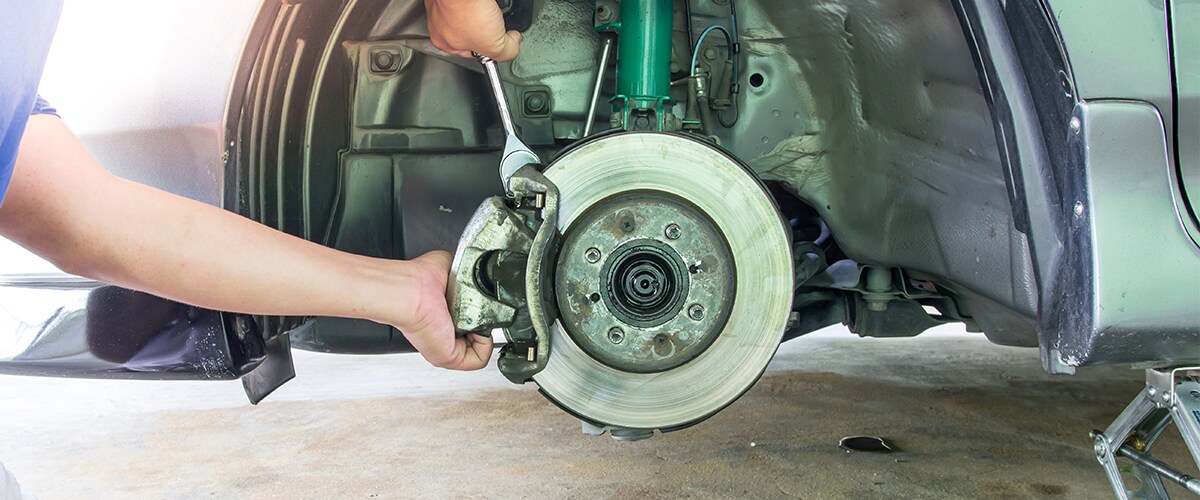 BRAKE SERVICE FOR MONTGOMERY AREA DRIVERS
Brake service remains a crucial component of routine vehicle maintenance, ensuring your vehicle's safety specifications are unimpaired. From brake pad replacements to brake rotor changes, brake fluid flushes to brake line replacements, BMW of Montgomery's team of service professionals perform the brake service your vehicle requires to get you back on the road with confidence. Utilizing state-of-the-art equipment to precisely and quickly perform the repairs your vehicle needs, our team of BMW-certified master technicians ensure your vehicle leaves our service center in impeccable condition.
HOW TO TELL IF YOUR BRAKES NEED SERVICE
Brake replacement intervals vary greatly depending on a variety of factors: driving style, vehicle type, vehicle usage, and more. However, most brakes require service between 20,000 and 50,000 miles. If you drive more aggressively, are frequently in stop-and-go traffic or tow and haul large loads often, it's likely your brakes will require service after a shorter interval, while more conservative drivers will typically go longer without having to service their brakes. To determine whether or not your brakes need servicing, here are a few indicators:
If your brakes are emitting a loud squeaking, squealing or grinding noise
If your brake pedal requires a longer travel distance to provide adequate stopping power
If your brake pads have one-eighth of an inch or less of pad lining on them
If you see scoring on your brake rotors
If your brake fluid reservoir indicates a below-normal fluid level
Should your vehicle exhibit any or all of the above indications, it's likely your model requires brake servicing. If left unattended, not only is your vehicle's ability to operate safely significantly impaired, but additional components will begin to wear dramatically as a result of ignored brake servicing - potentially requiring a more expensive repair shortly thereafter. Receive the brake service your vehicle needs at BMW of Montgomery to get back on the road with complete confidence!
BRAKE SERVICE AT BMW OF MONTGOMERY
BMW of Montgomery strives to ensure our service area drivers remain comfortable and confident in their models throughout their ownership. Assisting drivers in maintaining their vehicles with precise, uncompromising repairs, BMW of Montgomery's BMW-certified master technicians perform everything from brake rotor replacements to brake fluid flushes, brake pad replacements to a free 32-point vehicle inspection to ensure your model remains in optimal condition throughout its lifespan. Stop by our dealership to speak with a service center representative regarding brake services at your earliest convenience, or utilize our convenient online service scheduler to make your brake service appointment today!
Visit or Contact BMW of Montgomery to Schedule a Service Appointment!
Stop by our contact our service team to setup a service appointment today!
Hours
Monday

7:30 AM - 6:00 PM

Tuesday

7:30 AM - 6:00 PM

Wednesday

7:30 AM - 6:00 PM

Thursday

7:30 AM - 6:00 PM

Friday

7:30 AM - 6:00 PM

Saturday

8:00 AM - 4:00 PM

Sunday

Closed